Every business seems to have its own jargon and eldercare is no exception. If you have never had any experience with the various types of senior care, it can be a bit mystifying when people begin mentioning ADLs and SNFs. It's enough to make your head swim. If you are considering assisted living in San Diego County, here are a few common terms and what they mean.
ADLs and IADLs
When you first start looking for assisted living in San Diego County, you hear a lot about ADLs. This stands for Activities of Daily Living. These are simply common activities that we do every day, such as bathing, brushing your hair, going to the bathroom, getting dressed and eating. These are all tasks that can become harder as we age and when you begin visiting assisted living facilities, you will be asked about ADLs for which you need help.
Sometimes you also hear a term called IADLs. These are known as Instrumental Activities of Daily Living such as being able to pay your bills, shop for groceries, prepare meals, etc. Typically these are important, but less crucial tasks than ADLs. Assessing both ADLs and IADLs is an important step in determining what type of care is most needed, whether it is an in-home helper or assisted living in Solana Beach or some other level of care.
Toileting refers to all kinds of assistance related to the elimination of a patient's waste. It can mean everything from helping a patient sit on the toilet, to replacing a bedpan or an adult diaper.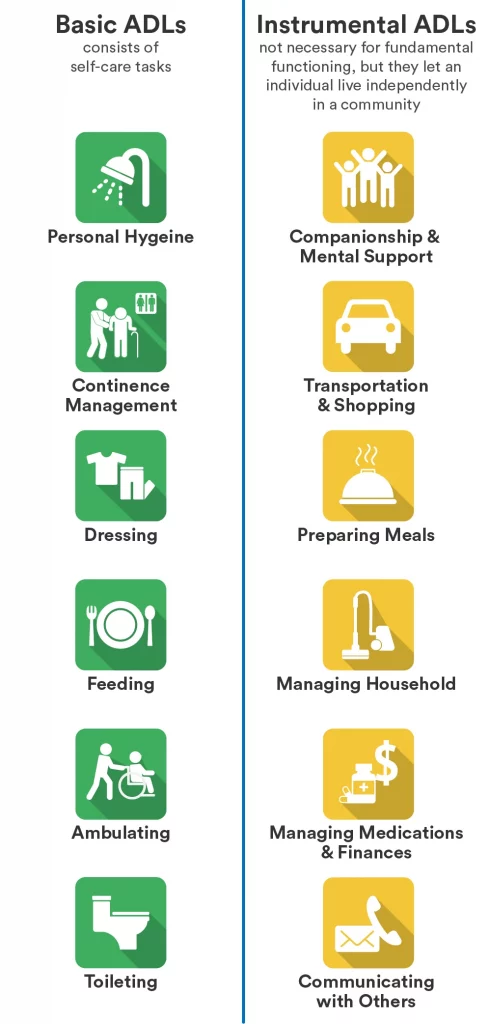 Types of Senior Care: Independent Living Versus ALFs, SNFs, Board & Care
These are the four basic types of senior care, aside from hiring someone to provide in-home care.
Independent Living Facilities refer to residential communities for older adults who really don't need daily care but prefer to not have to handle tasks such as cleaning, doing yard work, preparing multiple meals per day and possibly other chores. In addition, you typically have plenty of fun amenities available within the community.
ALFs refer to Assisted Living Facilities. These are communities that typically have many small private apartments for residents, and the fees generally include meals, housekeeping, laundry and some help with those activities of daily living. Assisted living facilities almost never provide medical care beyond medication management. At a facility for assisted living, the fees also probably include a variety of interesting activities for the residents.
SNFs are what we used to just call nursing homes but are now typically referred to as Skilled Nursing Facilities. Unlike assisted living, these facilities provide daily medical care for residents. Some people live at an SNF for just a few weeks or months to recover from an injury or stroke, and others will stay at this type of facility for months or even years. People may have private rooms or shared rooms at an SNF, but they don't offer private apartments.
Board and Care is very similar to assisted living but on a much smaller scale. A facility for assisted living might be fairly large and have many private apartments. A board and care home, on the other hand, usually has only five or six residents and often is located in a private home. In some cases, this can be a more affordable option than assisted living, and some people also prefer the smaller setting and more personal attention.

CCRCs: A Full-Service Option
A CCRC refers to a Continuing Care Retirement Community. These are communities that have a wide range of services. One level might be simply for fully independent retirees while another level might include some assisted living. Skilled nursing and memory care also would be options. These are becoming more and more popular as they can provide what is known as Aging in Place. This simply means that rather than move from a retirement community to a different assisted living community and then perhaps to skilled nursing or memory care, you can stay in the same community and receive different levels of care.

Respite Care
This is temporary care for older adults who need help with ADLs or perhaps have dementia or Alzheimer's disease or a combination of these issues. The idea behind respite care is to provide a safe place for an older adult to stay while their caregiver is out of town or perhaps at work or even recovering from an illness.
Respite care can take many forms. It might mean that you have a person come to your home during the day to help out either every day, a few days per week or perhaps just once in awhile, such as when you are on vacation. It also might be an Adult Day Care Center, where older adults can go for breakfast, lunch and social activities. There are also some facilities that provide respite care, a bit like a temporary assisted living facility. These can be planned stays to help out while a caregiver is on vacation or on a business trip or unplanned stays that might occur if the primary caregiver has an emergency.

Medicare/Medicaid/LTCI
Many people are confused by these terms. Medicare is a government-funded insurance program that serves people 65 or older as well as people with disabilities who may or may not be older than 65. In some cases Medicare can be used to cover the costs of skilled nursing care, but it cannot be used to pay for assisted living or board and care. It is meant to help with medical needs and some level of rehabilitation.
Medicaid (MediCal in California) is an assistance program for people of all ages who are unable to pay for health care, and sometimes this can be used to cover all or a portion of the costs of eldercare. Usually Medicaid cannot be used to pay for residence in a community for assisted living. Typically, this will help indigent people pay for residence in a nursing home or perhaps a board and care facility.
Finally, there is LTCI, which is known as long-term care insurance. This can be used to help pay for assisted living. This is something one would purchase years prior to needing residence at an assisted living facility, a board and care home or a memory care facility.
These are just a few of the terms that you might hear as you research different types of senior care. Not only can we help you find an excellent assisted living or board and care community for yourself or a loved one, we also can help you understand what many of these terms mean.