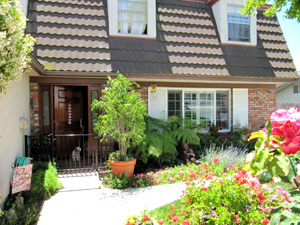 This summer, moviegoers will be treated to the comedy version of the bestselling guidebook, "What to Expect When You're Expecting." Many are familiar with this book as it has been dubbed the pregnancy Bible. Why is this book so popular? Because fear of the unknown haunts anyone facing a life change, and if we can find a lantern to guide our path into the unknown, why wouldn't we take it? Have you recently taken on the task of searching for eldercare for a family member? If this is your first time, you might wonder what to expect from assisted living.
There are two types of licensed care options: Board & Care and Assisted Living communities. What can one expect from a residential six-bed Board & Care? At most locations, you will see ramps instead of stairs, alarms on the doors, restrooms modified with grab bars, raised toilet seats, and transfer benches or roll in showers. Each room at a board and care, regardless of whether or not it is shared or private, will have a bed, chair, lamp, and dresser or closet space for each resident. A few caregivers closely monitor residents and wear several hats from food preparation, housekeeping, activities and assistance with daily personal needs of each resident.
What should you expect from an Assisted Living community? Most are larger properties with hallways and common areas, including dining rooms, various game and meeting rooms, a library, a gym, and a salon. Typically rooms are unfurnished and have four to six different floor plans. Most include a restroom, kitchenette with a refrigerator, microwave, and sink. Expect professionally trained assisted living staff who answer to an Executive Director who is in charge of heads of departments such as: Food service, Activities, Housekeeping, Maintenance, and a Nursing Director.
All providers include basic care such as assistance with bathing, dressing, grooming, toileting, and incontinence care and medication management. Some offer Dementia and Memory Care, Diabetic care, ambulation assistance, transfer assistance, hospice care and short term or respite care.