If you do not require the comprehensive medical services of a nursing home but need more custodial or personal care than can be provided at a retirement community or with In-Home care, an Assisted Living Facility could be right for you.
Assisted Living facilities provide support services for seniors who have some difficulty with activities of daily living such as moving around, getting dressed, showering, and getting to the doctor, but who also want to maintain a certain level of independence.
Assisted Living communities also provide families with the peace of mind knowing that there is always someone available when their loved one needs assistance.
While Board and Care facilities are typically traditional single-family homes with six residents, Assisted Living communities are much larger, some with hundreds of residents. Residences vary in size and style from high-rise buildings to large multi-building campuses to single-story secured structures.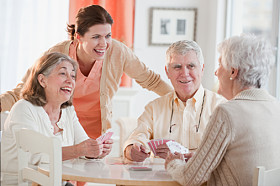 Depending on your preference and budget, you can choose a private or shared studio or apartment. Some communities also have kitchenettes, however meals are typically provided in restaurant-style dining rooms three times per day, alleviating the need for full kitchens.
Because of their large, community-like setting, Assisted Living facilities tend to have more social and recreational activities than you would typically find at a Board and Care home.
Just as varied as the styles of Assisted Living facilities is the level of care they provide. Whether a senior is mostly independent but needs some assistance with everyday activities or is very frail and requires a heavier level of care, there is a facility that will accommodate those needs. Some also have secure Memory Care Units within their communities that meet the specialized needs of residents with Dementia or Alzheimer's.
Since every person has their own unique challenges and needs, a facility will assess each resident upon move in and develop a special care plan based on their individual needs. These care plans are updated regularly to accommodate the changing needs of each resident.
Unfortunately, economics rather than availability of services often dictate the choice. If a senior requires extensive assistance and has very limited income, perhaps only Social Security, he may have few alternatives but to move to a Skilled Nursing Facility for long term care covered by Medi-Cal.
Care Placement's advisors can discuss your needs with you to determine if an Assisted Living community is appropriate or necessary. The advisors can help you assess your specific medical, social and financial situation to determine whether Assisted Living, Board and Care, or Skilled Nursing would provide the best quality of life for your loved one.
---
For More Information on Assisted Living…