There are many different things to consider before choosing a nursing home for yourself or making a recommendation to a loved one. You will want to assess the quality of the staff, the overall cleanliness of the home, the comfort of the rooms, and many other different features. Don't overlook the nursing home menu.
A nursing home's dining policy will play a large role in the overall quality of a resident's stay. When assessing a particular facility, here are some questions to ask yourself regarding their food options and policies:
Are the food items on the menu healthy?
Is the menu diverse? (You should ask for a week or two of menus to review)
Are there different food options with each meal so a resident can choose foods they like and avoid foods that they don't?
Is the dining area clean?
When you visit the dining room, are the residents eating the food?
Is the staff helpful to those who need assistance assembling and eating a meal?
How does the staff deal with special dietary needs, such as food allergies?
Are snacks offered throughout the day?
Can residents eat in their room?
Can residents receive outside food from family members?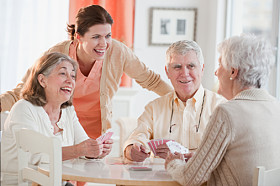 If possible, we encourage you to sit down with the residents and try a meal. It doesn't matter how healthy a meal is if it doesn't taste good! Assessing the nursing home menu is just one of those little things to ensure your loved one has the best possible experience.